Industry Human Machine Interface 4.0 (IoT)
Human machine interface with integrated PLC (IoT) for machine and systems control and monitoring. Fitted with operator interface, PLC, IO ports and remote management. Ideal to lead your systems into Industry 4.0.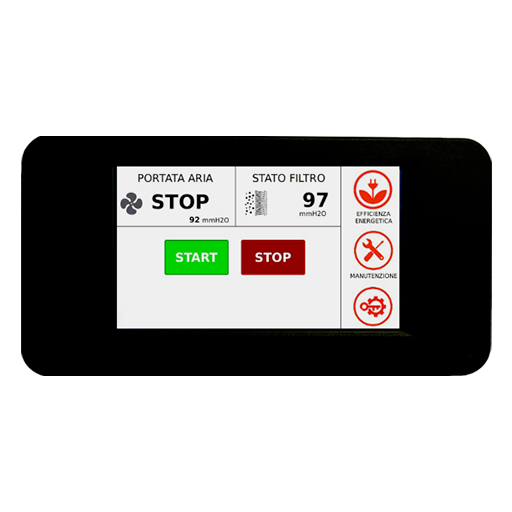 INDY 4.0 allows you to quickly create systems and equipment for Industry 4.0. The device consists of a 4,3" touch screen display for operator interface, analogue and digital IO to manage machine and sensors logic and network connection allowing for remote system management.
Thanks to the network connection, INDY 4.0 can notify and diagnose machines and systems conditions via email.
The network connection also allows for remote management, letting you access the operator interface and work just like if you were in front of the terminal. Furthermore, both the interface software and the PLC can be remotely updated.
Data Sheet:
Display: TFT 4,3" - 480 x 272 pixel 262k colori
Touch screen 4-wire resistive
PLC IEC61131-3
Fieldbus RS485, Modbus RTU and TCP, CanOpen
Supply voltage 12 ÷ 36 VDC
Power absorbed 3,5 W (digital outputs excluded)
Analogue inputs n.2 (0÷20 mA / 0÷10V / Thermocouples / PT100)
Analogue outputs n.1 (0÷20 mA / 0÷10V / PWM 250Hz)
Digital inputs n.4
Configurable digital I/O n.8