ATL System
Autec ATL System allows to control the level of the material (asphalt) in paving machines.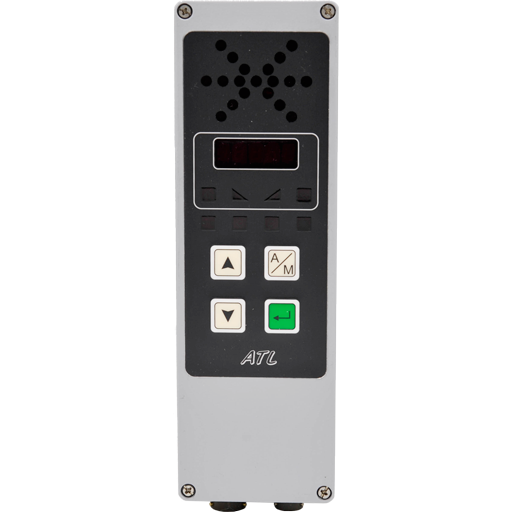 Several reasons make this project innovative:
Easy-to-use interface which includes: 5 digits 7 segments display for visualization; 4 backlit keys for excellent night vision; 8 LEDs showing the different operating modes; high brightness LED showing which orders the machine is carrying out (up / down)
ATL System is connected to the machine by a coiled cable and a military type connector (MIL) 10-poles screw connection.
The interface is connected to the sensors by a coiled cable and military type connectors (MIL)
In order to reduce costs and increase the reliability of the system, Autec has designed the only circuit board installed in the interface that can control the three types of sensor: slope longitudinal ultrasonic and longitudinal mechanical. Inside the sensor case there is only the sensor, without any other circuit board.
The sensor/transducer used for the longitudinal leveling is an absolute encoder which has no direct contact with the mechanical supports: "ground skate" or "wire support". There are no components that can wear out during the use as in a potentiometer. The sensor is manufactured in Germany and its protection rating is IP66.
Mechanical accessories have been improved based on gained experience. They are now totally made of stainless steel and are available for longitudinal leveling. Furthermore, there is the new "ground skate" and the new wire support to follow the tight-wire reference profile.
The ultrasound sensor/transducer used for longitudinal leveling is extremely accurate and, with its new temperature compensation system, is even more reliable. Its protection rating is IP66.
The sensor/transducer used for slope leveling has military design and can guarantee high precision in slope measuring. This high precision can be particularly appreciated when the machine is fully extended. Its protection rating is IP66.
The interface and the sensor cases are particularly sturdy and were designed to endure the hardest working conditions.
The ATL System kit can be provided with its military-designed case. The case is provided with a pressurization valve to pressurize its contents in case of air travel.
The ATL System control is EC approved and has obtained other certifications that guarantee its proper functioning under extreme conditions.
Low price and high quality.